Sign up for our newsletter and get 10% off on your next order!
TYPOGRAPHY AND QUOTES POSTERS
As a type of "tribute" to strength of speeches and languages, typography and quotes were born. It's the art of arrangement of letters, numbers, symbols to make them readable yet appealing. It's a way of communicating while staying as decorative stuffs. Typography traces its origin to a time as old as human civilization, and it continues to evolve and develop until now with the help of modern design tools.
There're always things to learn from others. We learn by hearing directly, by reading book, by watching movies, or by… contemplating a poster! Posters bring your favorite quotes to public visibility. They help you show how much you enjoy or respect pearls of wisdom.
This type of poster can be kept as a declaration of your ideology and motivation for others who watch.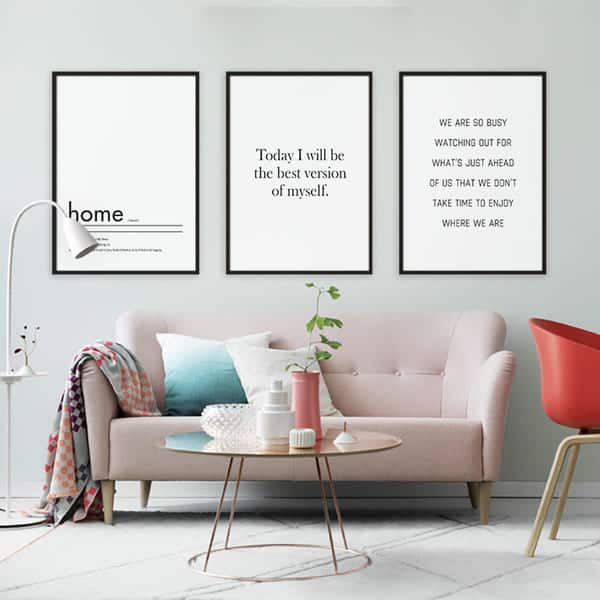 A WIDE SELECTION OF TYPOGRAPHY POSTERS
A motivational quote poster, an image of some letters, a self-proclamation phrase or a proverb – anything you want in any kind of design. You may like the poster to look like a calligraphy poster. Or you can want it to look elegant and clear as a decorating item in office. You can also expect that it's a cute wallpaper of alphabet for your kids to learn. Whatever it looks like, it is here. Indeed, whether you want a vintage text poster or a modern minimal quotes poster, you just type in the search tool of Artsy Bucket. You can choose canvas prints with direction and size that are suitable with your space.
TEXT POSTERS ARE MARVELOUS GRAPHIC DESIGNS
Typography is a dialogue between typeface designers and graphic designers. There are people who are educated to be specialized in creating thousands of new typefaces each year. Every little detail of a letter has to be thoughtfully calculated. Designers have to care about aperture, apex, arc,… and many terms like that. Turns out, simple texts carry meanings and lots of effort. Then you know that even a picture of letters is a treasured art. You don't like posters with implicit images? Just pick for yourself a canvas print that says out loud your personality or your point of view from our gallery.